A family story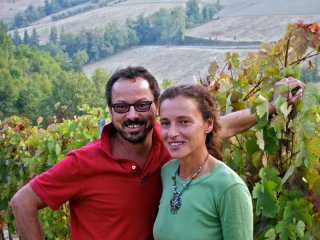 The Estate was born in the end of 2003 from my passion and my husband Claudio's competences both in the enological and viticultural field.
We are inside Modigliana municipality, on Romagna hills, a total surface of 15 hectares laid out like an amphitheatre surrounding an old country house with ancient origins.
History tells about the existence of this "Balìa" already in 1700 as an important agricultural reality, residence for the "Balìtore", a person appointed by the authority as the officer in charge for several properties management and administration.
Our arrival in Romagna as a family dates back to many vintages ago (1999).
The project Balìa di Zola is the result of the acquired knowledge and competence, and also of our firm belief that in this territory there actually is everything that is needed to create great wines.
Our work: between viticulture & enology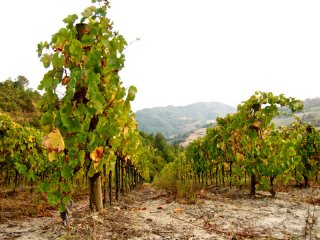 Work in Balìa di Zola takes place above all in the vineyard. This is Sangiovese land and we are carrying forward this tradition that here surely isn't a chance.
Our labour started on a 3 hectares vineyard, about 40 years old, that we recovered and structured according to our operating method.
Today they are the base of our work and have been our nursery for the grafts to use in the new implantations. now the total surface has reached 6 hectares.
This amphitheatre's microclimate is surely very interesting for vine culture: south – south – west exposure and the presence of a balanced structured soil, with a marly-arenaceous frame and mildly well provided with limestone, importantly contribute to define these wines personality: elegant, with great structure and intensity.
All operations in the vineyards are carried out manually.
The culture system is spur cordon and during the winter pruning – carried out between December and January – we calculate to obtain about one kg of grapes as fruit for each plant.
Removal of sideshoots and pollarding are carried out in the middle of the year, defoliation to help ripening from the end of July. Normally in Balìa di Zola we harvest between the end of September and the beginning of October, and grapes are  collected in 20 kgs crates, with an accurate selection on the field.
Inside the cellar operations are quite simple, grapes de-stalking and their introduction inside fermentation tanks; control of the fermentation temperature (28 – 30° C), and use of delestage technique for a better extraction.
When the alcoholic fermentation is completed (10 – 15 days), we carry out with the racking to support the start of the Malolactic fermentation.
Refining varies according to the wine's typology.